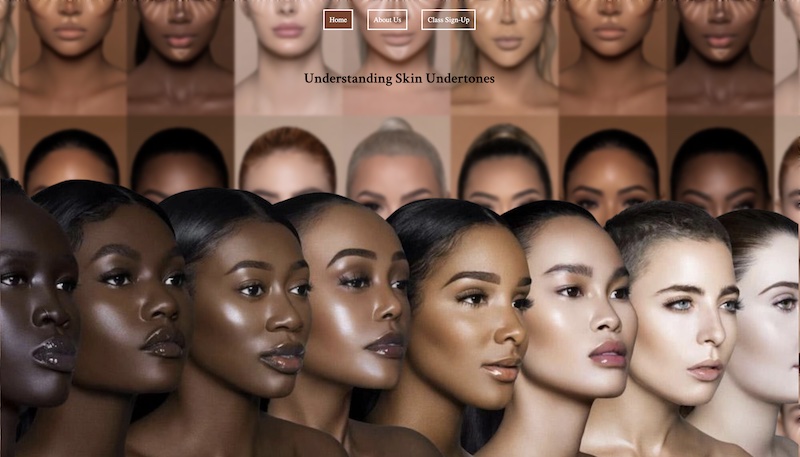 Final Project
Understanding Undertones
Brief description of your project: The project I created is titled "Understanding the Importance of Undertones," which is to help beginner makeup artists and women as a whole with A better understand the importance of knowing how undertones, hues, color in jewelry (silver or gold), and even eye color can affect what shade of foundation/concealer should be worn to achieve an eye-catching result. Starting in the makeup industry, missing this little piece of knowledge definitely made it difficult to achieve a certain look. Also, it helps the makeup blend with your skin properly by using little to no product for everyday makeup wear.
Q&A
Why Boca Code?

Boca Code was referred to me by an alumni, A mentor close to me entering the IT field as well and the world is transitioning into Tech Environment before our eyes. Coding is A skill I wanted to acquire but not knowing where to was scary for me. After doing my thorough research about Boca Code I realized it is a great place to learn something new, has great reviews, and is mainly due to the fact that the school is offering that intimate setting of learning in a classroom with support from alumni, one-on-ones with the teachers of the school. Which surely increased my interest and chances of truly understanding the material, and getting hands on experience.

What are some of the important skills for success in your field?

Versatility, willing to learn new languages, and adapting to new changes in the Tech Industry. Leaning into the uncomfortable parts of learning to enhance one's success are important skills to acquire and demonstrate. As well as having soft skills, humility, and understanding the importance of teamwork.

What inspired you to pursue your current career path?

Transitioning from an artistic, creative, and versatile background is what pushed me to learn new ways to CREATE and BUILD. Exercising my creative talent and showcasing my skills acquired at Boca Code into code gave me a better understanding of what can be achieved with writing code and the basics that give you the needed tools to create and build any thought and turn it into code. Creating a picture of a story using code is what amazes me every time. Always up for a challenge and learning new things.